Auto-Trail 2019 Models and Upgrades Announced
New additions for 2019 – including a new French bed, a compact tourer and 3 high bed models by Auto-Trail
Leading UK motorhome manufacturer welcomes 5 new models into the 2019 collection and includes more extensive standard equipment than you've ever seen before!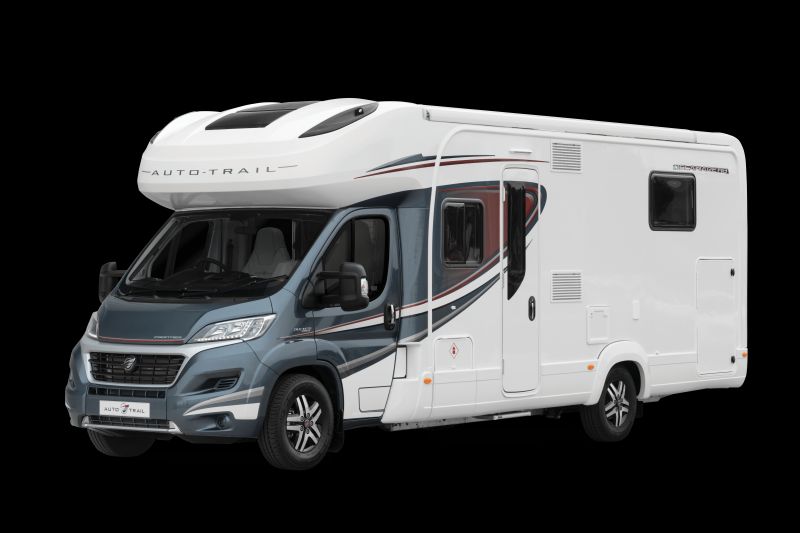 Auto-Trail, the British motorhome manufacturer, reveals everything new and upcoming for the 2019 season. We welcome the Tracker EB, a popular French bed layout with washroom at the rear; the all-new Tribute 736 G, a high-bed coach built with spacious rear garage; a new 6.3m V-Line compact leisure vehicle featuring a slim-line fridge with integral freezer, and two new high bed Frontier models.
The Tracker EB built on the Fiat Ducato heavy chassis and starting from £61,597, encompasses the popular French bed layout, allowing for space and fluidity throughout the entire motorhome. The washroom at the rear provides generous space and privacy, incorporating a large separate walk-in shower, swivel toilet and basin unit. The spacious front lounge area can also be made up into a large double bed and with the addition of a hi-line and half dinette (cost options), you will have a functional family motorhome that has 4 seatbelts and can berth up to 6. The EB also includes an upgraded 6kw gas / electric combi boiler, a new high-performance Thetford cooker and alloy wheels fitted as standard.
The 2019 season also welcomes the practical Tribute 736 G starting from £47,131, a fixed high-bed coach built that integrates a spacious 1.15m tall garage underneath. This added storage space at the rear, will enable you to carry your bulky sporting equipment or alfresco lounging furniture with ease. Also, thanks to the cycle carrier rails now fitted as standard, you won't need to use the garage for any of the family bikes. In addition, for 2019 all the Tribute models will feature the popular GT Pack as standard, a luxurious slim-line awning light, an upgraded habitation control panel, and improved 4K LED lighting.
Introducing a new 6.3m compact V-Line model, the 634 SE starts from £50,867 and features a sleek, slim-line 140 litre fridge with integral freezer, as well as incorporating a spacious rear lounge. The 634 SE includes a new 6.5" touch screen DAB head unit, with European satellite navigation and colour reversing camera.
V-Line models 610, 634, 635 and 636 will also be available with the exclusive 'Sports Pack', featuring a generous u-shaped rear lounge, curved locker doors and flush fitting integrated windows. This upgrade also includes a unique GRP moulded rear back panel with gas strut boot and a unique soft furnishing scheme, enhancing the dynamic feel of this sporty leisure vehicle.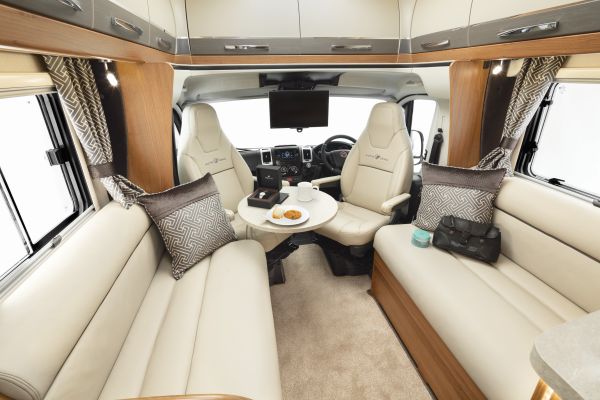 What else is new for 2019?
The Frontier range continues to develop, as Auto-Trail introduces two new high bed (HB) models, the Delaware HB starting from £73,444 and the Comanche HB starting from £83,892. By incorporating this elevated sleeping compartment, both models feature an substantial rear garage, which is large enough to easily fit a standard sized motorbike. All Frontier models will feature a new radiant, fully integrated ALDE hydronic heating system and for added value, the popular Media Pack will now be fitted as standard for 2019.
- Both the Tribute and Imala 2019 range will be fitted with the GT Pack as standard. This pack is worth £1,699 and includes: 4 gloss grey and polished 15" alloy wheels, exterior wind out awning, 100W Solar Panel, exclusive 'GT' badge, and a new external BBQ point outlet for coach-built models.
- All Tracker, Apache and Frontier models include the latest Thetford fridge freezers, upgraded 6kw Combi boiler (if fitted), a high performance electric and gas cooker, new modern designer worktops, a smooth pull out bed mechanism with integrated support frame and a waste water tank pipe extension as standard.
- Auto-Trail motorhomes and van conversions all feature new luxury upholstery schemes, incorporating automotive suede and including customised cab seat logos. There is an exclusive soft furnishing scheme for V-Line Sport, making this the stand out compact vehicle.
- Popular options are the Media Pack (£1,149) and Media Pack + (£1,999). However, as the Frontier range now has Media Pack features as standard, the new cost option price for the Media Pack + on Frontier will only be £850.
Russell Hensman, Marketing Manager says:
"We are incredibly pleased with the new developments and added specification our 2019 collection brings. The new models have increased diversity and enhanced specification, ensuring that our customers can tour in greater comfort and style. Including the GT Pack into standard specification for both Tribute and Imala, will propel our products ahead of our competition in the competitive £45-60K motorhome category."
Download the 2019 Auto-Trail Dealer Preview here: Auto-Trail_Dealer_Preview.pdf
Find out more about Auto-Trail motorhomes: https://www.auto-trail.co.uk/