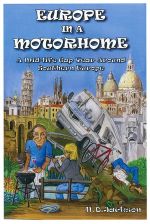 This is the story of Simon and Hazel Jackson's year long trip around southern Europe in a motorhome with their teenage son, Jack.
I have to say at the outset that it's not a 'how to do it' book, there is much useful information of course, but the book is mainly an account of their experiences on the road. I suppose you could say it's a 'why to do it' book, and it succeeds brilliantly at that.
Their journey took in France, Spain, Portugal, Italy, Slovenia, Croatia, Austria, and Switzerland and there's a chapter for each month, starting off from the UK in September and returning in August the following year. The family managed to cram an incredible amount into their trip, always following their 'here and now' policy of taking every opportunity that presented itself.
The book is essential reading for anyone thinking about a long term trip round Europe by motorhome, not because it's a handbook on how to arrange such a trip - it isn't, but it is a wonderful example of the experiences that can be had by taking the plunge and just doing it.
Europe in a Motorhome
Paperback - 214 pages
Author: Hazel Jackson
Published by: Trafford Publishing
ISBN 1-4120-8141-6
Price: US$19.11, C$21.98, EUR15.70, £10.99

Order this book direct from the author:
£10.99 with additional postage and packing at £1. To order through the author's direct outlet please email
Order from the publisher in the USA (paperback and eBook available): bookstore.trafford.com/Products/SKU-000146363/Europe-in-a-Motorhome.aspx

Order from Amazon